Caramel Is a Versatile Choice
Caramel hair color is one of the most versatile choices out there. Not all skin tones can pull off platinum blonde or deep black, for example, but caramel works well on almost any skin tone because of its medium depth. It works best on those with warmer undertones, but a caramel shade with less gold in it can even work on fair, cool skin tones. Not only does it make a versatile all-over color, but caramel makes a beautiful lowlight choice for blondes and highlight choice for brunettes.
Caramel Ombre Effects
When you want to brighten up very dark brown or black hair, caramel is a gorgeous place to stop. There's no need to go all the way to true blonde for highlights. Here, caramel is shown as part of an ombre effect. It offers the fun of going lighter without the damage or upkeep that traditional highlights (especially in a lighter blonde shade) could entail.
Caramel on Fair, Cool Skin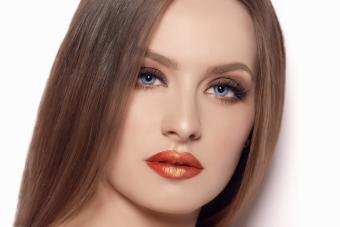 If your skin tone is fair with neutral or cool undertones, you'll look best in a caramel that doesn't have a lot of gold tones in it. If you do choose a caramel shade, especially if you're lightening your hair to get the desired color, talk to your stylist about the use of a purple shampoo. This may help you keep the shade from looking warmer over time. Simply shampoo your hair with it as often as recommended, leave it on for a couple of minutes, rinse out, and condition as usual.
Rich Caramel
Caramel hair looks exceptionally stunning on medium skin with neutral-to-warm undertones. A rich caramel shade on the hair highlights the bronzed look of the skin, and the warmth and golden tones in the hair can bring your overall look to life. Think of Jennifer Lopez and Jennifer Aniston and how well they rock the rich, caramel hair color.
Dark Skin and Caramel Highlights
Darker skin tones can have lots of fun with caramel hair, whether all over color or highlights. Caramels with a lot of red or gold present add visual interest and warmth. The caramel highlights shown here not only play well off of the darker hair near the roots, but it stands out with a fun hint of burgundy, too. Everything flows well together and the red doesn't look out of place at all. This photo also demonstrates just how cute a caramel ombre style can be on short hair.
Thin Caramel Highlights
Not all caramel color on dark hair needs to be especially warm, however. These streaks of caramel are more neutral in tone and do a magnificent job of breaking up the main hair color, adding visual interest, and showing off the waves without taking the spotlight.
Caramel with Lowlights
Sometimes you want caramel to be the main color for your hair, but you don't want it to look boring. Going lighter with a few blonder pieces near your face is certainly a route that many women choose, but don't forget about the option of adding in darker strands (or just leaving darker strands out during the lightening process) to make your look more interesting.
Chocolate and Caramel
Thin ribbons of caramel are a subtle way to brighten up chocolate locks. Because they're so close to the base color, upkeep won't be a nightmare even if you go for more traditional highlight placement throughout the hair, from roots to tips, versus the ombre technique.
Subtle Caramel on Dark Hair
When lightening some of the strands to caramel from a deep brown or black shade, expect some warmth, as dark hair colors tend to pull red and gold when highlighted. However, that warmth often looks natural and flattering against many skin tones. Here, you can see how natural heavy caramel highlights can look on black hair.
Golden Caramel
Here is another example of hair that's gone into a very warm caramel zone, something that can happen easily with darker hair colors, especially with DIY kits. If you want caramel hair but feel this is a bit too vivid for your taste and skin tone, a professional will be able to help you tone down the warmth and rest on a more neutral caramel color.
Curls and Caramel
Caramel, either all the way through the lengths of the hair or just on the ends, is effective in showing off curls and waves without making the overall look revolve around the color. You can keep the spotlight on the cut or texture this way, giving the hints of caramel more of a supporting role.
Easy, Breezy Color
If you're looking for an easy, breezy color that will give off a carefree vibe or just add some visual interest to your current color, caramel is worth considering. You can do anything with it--highlight dark hair (full highlights or ombre), lowlight blonde hair, add a few strategic streaks to show off your curls, or go for allover color to play up your skin tone.