Styles With Celtic Barrettes
To celebrate your Celtic pride, you may wish to adorn your head (the symbol of divinity) with Celtic barrettes. No matter what your heritage might be, these barrettes are beautiful accessories for many hairstyles.
How to Wear
There are several ways to wear barrettes depending on your hair thickness and length. Use them to add flair to your hairstyle whether you are heading to a Celtic or Renaissance festival or with your favorite everyday jeans and sweater.
Celtic Barrettes
For a style that is both attractive and functional, secure long hair with a barrette and pull a few hair tendrils out of the barrette. This look is feminine and flattering with both sweatshirts and dresses. Most of the metal barrettes are sturdy enough to hold a ponytail or a twisted hairstyle.
Hair Slides
Hair slides are made of metal, wood, or leather. They can be used to secure a bun or French twist, or simply wear one as you would any barrette. Handmade slides can be made to fit your particular hair thickness.
Hair Ties
Hair ties are a great alternative to the boring rubber band or ponytail elastic. Pull back your tresses and add some Celtic adornment to a low, neck-grazing ponytail.
Hair Sticks and Forks
Celtic hair sticks are used to secure a French twist or a gathered bun. Hair sticks can be worn to add a conservative yet romantic charm to a long sweater and a pair of knit tights. Hair forks are a two-tined version of a hair stick.
Hair Pins
Celtic hair pins are bobby pins that have added charms. They are perfect for short hair or a child's hair. They can also be worn to accent any hairstyle.
Popular Celtic Knots and Symbols
Remember that with all knots and symbols, their true meanings are a mystery. History only leaves us with the lore and legend that has been passed down through the years. Take with you whatever romantic inspirations you choose; it is most important that you find a symbol that "speaks" to you individually.
Celtic Knots: There is a variety of knots to choose from but all are designed to have no beginning or end, thus signifying eternity. Celtic knots are well-known and universally celebrated symbols. They are a perfect addition to any outfit or hairstyle.
Love Knot: The love knot depicts unbroken heart-shaped loops that are inseparable from each other. The love knot is often a symbol of two intertwining spirits and eternal love. The love knot is a good choice for a wedding, Valentine's Day, or just a dinner date with your true love.
Trinity Knot: The Triquetra knot, also known as the Trinity knot, is a design adapted from ancient Germanic paganism and ancient Celts by Christianity. The representation of the knot has different meanings to different cultures. Christians know it as representing the Father, the Son, and the Holy Spirit. For the ancient Celts, the triquetra knot was a resemblance of Odin's Valknut and the stages of the Triple Goddess - maiden, mother, crone. Others explain it as meaning the three planes of existence - mind, body, and spirit - or the tripartite divisions of the world - land, sea, and sky. However you view it, the trinity knot is a nod to one's faith and would pair nicely with any outfit for a church meeting or social or even a funeral.
Celtic Cross: The Celtic cross is another knotted symbol of faith for all Celts and much of the Christian world. Saint Patrick combined the cross of Christianity with the sun cross to express the importance of the cross and the life-giving properties of the sun to Pagan followers. It is a perfect accompaniment to any hairstyle for a church service or event.
The Irish Shamrock: Long believed to bring good fortune, the Irish Shamrock is the celebrated symbol of Saint Patrick and Ireland. Commonly worn for Saint Patrick's Day, the shamrock would also make a good choice whenever you need a little extra luck, and it goes with any hairstyle or outfit.
The Shield Knot: The shield knot can be identified as any knot with four distinct areas. The shield knot is a universally known symbol of protection for both home and battle. It was often worn on long travels to protect the wearer and secure a safe journey as well as protection for the sick. The shield knot would make a perfect pairing for a ponytail or braid.
Claddagh: The Claddagh is a traditional Irish symbol with a romantic past. It is made of three united symbols: the heart, the hands and a crown - the hands signify friendship, the heart signifies love, and the crown signifies loyalty. Today, the Claddagh is a popular Celtic and non-traditional wedding band choice. Claddagh barrettes make wonderful gifts to signify your bond with loved ones. It is a beautiful accessory to any updo.
Tree of Life: The tree of life is a symbol with Scandinavian origins that represents the connection between heaven and earth and continuity of a balanced life. A tree of life barrette would be the perfect accessory whenever you need a little extra balance in your life.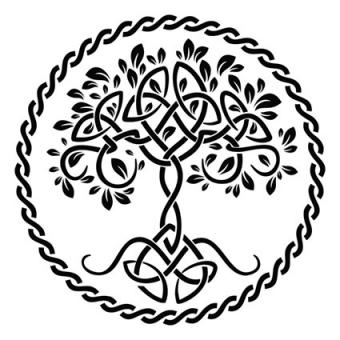 Scottish Thistle: The thistle is the national emblem of Scotland due to a legend claiming that it saved an entire Scottish army. If you have a Scottish heritage, wear it with pride. This is a popular symbol at Scottish weddings.
Materials
Celtic barrettes and other hair accessories are made from an array of different materials. Most popular are pewter, silver, brass, wood, leather, bone, and aluminum. Look for barrettes and hair accessories that combine the beauty of gemstones with the symbols. Many ornate barrettes incorporate precious stones into their designs, enhancing their scrollwork and beauty.
Where to Buy Celtic Barrettes
Hair barrettes and other accessories are often found at Renaissance and Celtic festivals as well as arts and crafts fairs. You may also find a nice selection of hair accessories at sterling silver kiosks in shopping malls, and through online retailers and medieval merchants such as:
Wear With Pride
Regardless of which of the Celtic symbols that you choose for your barrette, you will be able to work it into almost any hairstyle. Whether your heritage is Celtic or not, wear your barrettes with pride as you show off the beautiful workmanship that goes into making them.