Chunky Highlights Hairstyles Pictures
Chunky Highlights Hairstyles
Hair color is an easy way to change your look, and chunky highlights hairstyles offer a fresh, bold feel. While chunky highlights are defined by their thickness, they can be created in many flattering shades for different looks.
Get ideas for modern chunky highlights for an eye-catching look.
Spice Up a Traditional Style
A traditional long layered hairstyle with bangs gets spiced up with pale blonde highlights. Since the chunky highlights are only a couple shades lighter than the model's light hair, they offer a contemporary look that is still on the natural side.
Chunky Highlights for Short Hair
Short hair gets a stylish boost from chunky highlights. Here, the model sports a short layered razor cut with a combination of strategically placed caramel and cinnamon brown highlights.
Long Hair with Chunky Highlights
Add interest to a long hairstyle with chunky highlights. There are many different shades of brown that look fabulous on brunettes, like the warm toffee color shown on this model.
Brown Hair, Blonde Highlights
For a very dramatic look, brown hair with blonde highlights is popular. An above-the-shoulder, piecy hair cut like this one still looks professional while showcasing individual style.
Multi-Shade Chunky Highlights
Dark hair looks equally stunning with chunky highlights in a various shades. A mix of highlights and lowlights can create a unique look, and your stylist can place them appropriately to flatter your best features.
Chunky Colored Highlights
Alternative chunky highlights hairstyles often include bold infusions of color. Pink, green, and shades or purple and blue are all popular for emo and scene styles.
Curly Hair Chunked Highlights
Chunky highlights can work with virtually any hair type, from curly to straight. Chunked highlights on curly hair add a great, dimensional look, whether it's a few carefully placed highlights, as shown by this model, or...
Formal Hairstyle with Highlights
Chunk hair highlights can also be a gorgeous addition to a formal hairstyle for a wedding, prom, or other special occasion. Show off thicker highlights with updos, half updos, or even down-dos.
Men's Chunked Highlights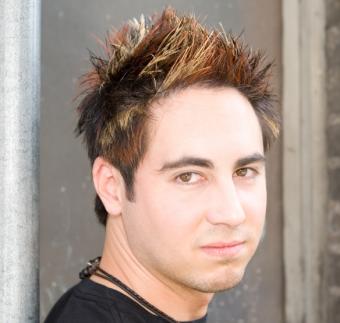 Men can sport chunky-style hair highlights, too. Many men's alternative styles, from shags to spikes, are accented with highlights to add even more individuality to the look.
Chunky Hair Highlights for You
Chunky highlights hairstyles can take center stage in any season. Consider your personal style and natural hair color to come up with an eye-catching highlighted style that works for you.
For more highlight ideas, see these
examples of highlighted hairstyles
, too!