Hair Highlighting Looks on Guys
Hair color is not the exclusive realm of women, and there are many great hair highlighting looks on guys that can help any man discover a new style.
Most men, when they first start to consider a color service, are more comfortable with subtle styles, such as light blonde frost highlights in medium brown hair.
These type of highlights help define layers and give any style some edgy appeal without being too obvious.
Two Tone Highlights
Using two highlight colors, such as a rich red and a brighter blonde, can give an otherwise bland hair style and nondescript hair color some pop.
This is an especially great look for longer hair or bangs where the colors will be more noticeable.
Punk Purple
Purple hair highlights are a great punk, emo, or goth look for a daring young man. Purple looks good in light or dark hair, and can be edged along the tips of strands or used as wider chunks of color at the temples or bangs.
Red Hair Highlights
Red and blonde highlights are fabulous in dark hair and can make a shag hair style stand out.
While many women's highlights focus on being subtle and looking like natural color, hair highlighting looks on guys are often bolder chunks and stronger contrasts for a more masculine result.
Emo Bangs
Adding hair highlights to emo bangs is a great way to define a style and give it a bit more edge.
Rich crimson is a popular emo hair color, and it looks vibrant as thin highlights in very dark hair.
For a true emo style, however, be sure to keep the color subtle and confined rather than all over the hair where it would look more punk than emo.
Young Men
Just as many young women are experimenting with hair color and highlights in high school or even junior high, younger guys may be interested in adding flair to their looks.
Sun-kissed blonde hair highlights with a hint of red or brown are the perfect choice for an active young man, especially if he has slightly longer hair that can be easily brightened with extra color.
Color Chunks
Short hair can be harder to add highlights to, but chunky hair highlights can be used on a man's wispy bangs to help frame his face and brighten his complexion.
To keep this look natural, the highlights should be no more than 2-3 shades lighter than his base color.
Punk Highlights
For a bold hair color statement, men may want to try alternative hair styles such as punk and rocker looks.
Adding a rainbow of hair highlights to the style is a sure way to make it stand out, such as adding peach, blonde, orange, and subtle red highlights to blonde base hair color.
These shades are less alternative than even bolder hues, so for a more extreme style opt for bright red, blue, green, and purple highlights blended together.
Cropped Highlights
A very short buzz cut or military hair style can be difficult to highlight, but it is not impossible.
If the hair is longer before the cut, highlights may be applied and allowed to set before the hair is cut and styled in a much shorter look, or the color can be applied to very short hair.
To highlight a buzz, opt for lighter color where the hair is longest, such as along the forehead and hairline where it will frame the face.
Frosted Hair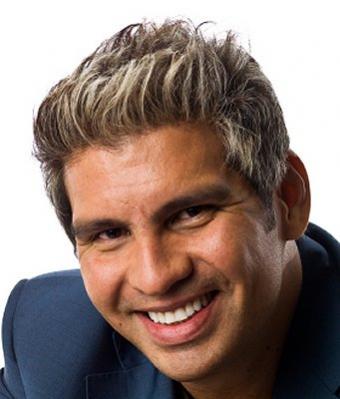 Frosting hair highlights tend to look both bold and natural because while they definitely contrast with the base color, they are thinner streaks of color more uniformly spread throughout the hair.
White or blonde highlights in a frost style are great for older men who may want an alternative to covering gray hair and instead prefer to flaunt their changing hair color.
Streak Highlights
A trendy, edgy hair highlighting look for guys is streaked highlights that make no attempt to blend in either together or with the natural base color.
These highlights can accentuate shaved areas or spiky hair styles with equal ease, but be sure the colors do not contrast too strikingly or the effect will be more comical than masculine.
Rocker Color
Many young men dream of starting a rock band, and having the hair style and color to match can make that dream closer to reality.
Hair spiked in the back and smoothed with emo bangs in the front is a sharp and edgy look, and highlighting with bright red or blue color makes it stand out even more.
For more ideas for men's hair styles, check out…