Women's hair styles are an important part of how they look and feel. The right one can help a woman feel more confidant; but is's not always easy to get it. Good communication with the stylist, the right cut and style for your face shape, and a look that works with your personality and lifestyle are all key to having fabulous hair.
Communicate with Your Stylist
Great hair styles and great hair stylists go together. A really good stylist should have patience, great listening skills and the ability to give feedback in a positive way. You can evaluate these qualities by first scheduling a brief consultation before the haircut begins. Remember, it's easier to walk out of an uncomfortable situation before the scissors start flying than storming off when half your hair is six inches shorter than the rest!
Flattering styles begin with great communication. For example, how many times have your walked out of the salon with a much shorter cut than expected? When talking about length, it is always best to visually demonstrate (with your thumb and forefinger) how much you want taken off. Also, bring a picture of the hairstyle that you want, so that the stylist can see exactly what you have in mind. He or she can then advise you whether that look will work for you or suggest modifications so that the style will suit your face.
Specific Face Types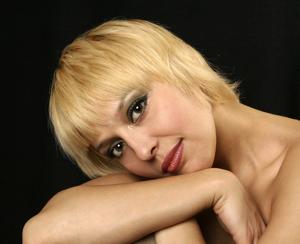 Your face type will determine which styles look best on you. Oval shapes can wear virtually any length or cut, although extremely long blunt cuts tend to make your face appear drawn out. (However, a few wispy layers in the front can negate this effect.) For round faces, blunt cuts tend to call attention to the width of your face, so opt for tapered ends.
Cuts that are just below the jaw line work well for round shapes. In contrast, for square shapes, this length tends to emphasize your facial structure even more. Instead, try a shorter cut or longer sleeker style with soft, framing layers. Face framing layers also work well for a heart-shaped face by de-emphasizing a pointy chin and calling attention to your eyes and cheekbones.
If you want to duplicate another individual's look, always compare their facial structure with your own to make sure the style will translate well to your own facial shape.
Different Types of Styles
There are as many women's hair styles to choose from as there are different personalities. Consider some of the following looks:
Classic
Classic styles are called just that because the looks are timeless, can be worn to a variety of venues, and never look dated in photographs. Some classic looks include:
Bobs: Whether short or cut on the long side, bobs never go out of style. Play with yours by adding bangs, or have the bob cut asymmetrically or on the bias.
Long and lovely: Hair that is long and all one length is another timeless look. The key is have regular trims to remove split ends; this keeps the look fresh.
Shoulder length hair: Shoulder length hair is versatile no matter your age and because it lends itself to many different styles; you can wear it to the side, add bangs, clip up the sides for a warm romantic look, it's a winner for many.
Trendy
Trendy styles are perfect for those that love cutting edge fashions. While these styles change over time, sometimes rapidly depending on popular culture, there are a few ways to keep on top of the new looks. Just a quick glance at the current glossy magazine covers will yield which way the fashion wind trend is blowing.
Beyond that know that anything that is a break from the norm is considered trendy. For example, a shag hair cut is almost always trendy and in style because it deviates from having the hair cut all at one length. Adding bold color or highlights is another way to take a style from classic to trend setting. Finally, you can also take cues from the music industry, where side ponytails, angular cuts, and edgy looks are the norm.
Alternative Styles
Alternative represents a complete break from all the hair looks that came before it. In this category, emo looks and punk styles rule the day. Mohawks, whether tall and spiked, or natural and shaggy work well to set your hair apart from all the others. Punk colors like purple, blue, red and green should also be considered. For example, you can take a perfectly status quo hair look, like that of long, shiny hair, and add streaks of green throughout; that will instantly make the style "alternative".
Special Occasion
Everyone wants to look fabulous on a special occasion, but many often spend the night (or day) wondering if the look is over-the-top, drooping, slipping, etc. Don't let this happen to you. Instead, work with your hair texture and create special styles that blend with it seamlessly. For example, if you have thick hair, then the chances are good that you can do a sophisticated updo. If you have thin or fine hair, and updo might slip, so instead opt for a sexy side part. Here are some fun styles to play with:
Veronica Lake waves: Veronica Lake wasn't an iconic screen goddess for nothing, so take a page out of her book. Part hair deeply, and add sleek curls. A good example of this look is Nicole Kidman's lead character in Moulin Rouge.
Half up, half down: Easy as pie, this look transforms you from ordinary working girl to sexy, romantic siren. Gather the front portion of your hair, tease with a comb, and secure with a clip. From there, gently smooth over any rough edges.
A simple bun: Nothing looks more elegant than a smooth bun. You can dress up the look by adding a pretty clip or barrette.
A high ponytail: A high, smooth and slick ponytail will not only give you a youthful, fresh glow, but it's also very easy to do and requires a minimal amount of styling tools. Better yet, if you are invited at short notice to an event, as long as you have a brush and a hair tie, you'll be good to go.
Clip bangs back: Another pretty, yet simple special occasion style can be made by simply clipping your bangs back with a jewel-encrusted barrette. This creates a romantic and lovely finish.
Further Considerations
When it comes to women's hair styles, you need to take other factors into consideration besides what looks good or happens to be the latest trend. For example, cost is one aspect to think about when choosing a style. You may look stunning as a platinum blond, but do you have the money to have your roots done every six weeks, not to mention the slew of professional products necessary to repair the damage done by such a radical procedure?
Lifestyle is another factor to consider. What is your morning routine like? Are you an active person that is constantly on the go? How much time and effort do you really want to spend on your hairstyle? If you can't stand to fuss with products and gadgets, a high-maintenance cut is probably not the best option for you.
The best hair styles result from a combination of research, careful thought and a preliminary heart to heart at the salon with your stylist. Of course, a bit of an adventurous spirit can also contribute to the experience of crafting a new look.