Fun Hairstyles Using Braids
There are a wide variety of fun braided hairstyles. Braids can be suitable for all ages, types of hair, and social occasions. The key to a great braided look is to find the style that works for you. Once you have mastered the simple technique of braiding, you can experiment with different looks.
Classic Pigtail Braids
Classic pigtail braids are simple braids worn on either side of the head. Pigtails are not just for kids - adults can also enjoy wearing them. They are perfect for a casual, fun look.
Fancy French Braids
French braids are bit more tricky than other types of braids and may require the assistance of another person. These braids are close to the head and can be woven into intricate patterns varying from the center back of the head to braids that run horizontally anywhere you please.
Classy Braided Updo
Longer braids can be twisted into updo styles for a classy prom or wedding hair style. Consider wrapping a bun with a long braided strand of hair for an extra special touch. You can add a few fun accessories to your braided updo to turn heads no matter where you go.
Creative Cornrows
Cornrows are tight, symmetrical braids that are worn close to the head. These tiny braids can be patterned into creative styles along the scalp. When you have cornrows, very little maintenance is required. You can simply wash your hair and be ready to go out the door.
Single Braid
The simplest style of all is one single braid. With this look, the braid is usually centered and worn down the back, though it can be off-center for more variety. Secure the single braid with a hair elastic of your choice and you have a style that will last all day.
Accent Braid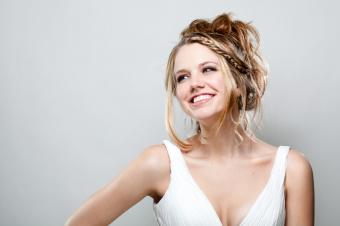 Braid a small section of hair as an accent piece for a look that is uniquely yours. Place your accent braid anywhere you like from the front of the head to the back. Incorporate this look into any hairstyle whether it is an updo or a straight and simple style.
Micro Braids
These tiny braids called micro or pixie braids are a great look for women with coarse hair who want to wear longer hair without as much volume as a loose style. Micro braids cut down on frizz and are great to wear at the beach or during the summer when temperatures soar.