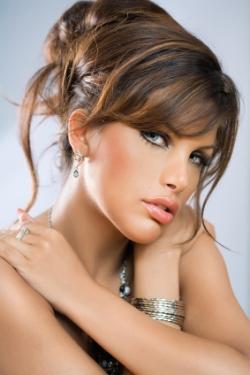 No matter what the length of your hair is, there are different style ideas for sexy hair you can utilize to add some serious va-va-voom to your hair.
Find Ideas For Sexy Hair
The best way to find sexy hair ideas is to utilize a style that suits your hair length.
Long Haired Sex Kitten
It's no surprise that long haired gals have a few more styling options that their shorter haired counterparts. Keep in mind that longer hair may take a bit more time to style, however.
Bedroom Hair
Bedroom hair is a term reserved for hair styles that help you to look as if you've just awoken from a long, sumptuous slumber. To achieve this look, think saucily tousled hair.
Very large curlers are your best friend: Larger curlers will create the soft, loose waves that are instrumental to this style. Start with at least day old hair. You can rub a bit of shine-enhancing cream into the hair, but if doing so, use a minimal amount.
From there, roll your hair into sections, and if the front of your hair is long enough, roll that section as well.
After that's done, blast your hair with a hair dryer set on low.
Leave the curlers in for about 20 minutes.
When time's up, uncurl your hair and tousle with your fingers; do not use a brush.
Half Up Do
Half up dos are incredibly sexy because they typically create height at the crown of the head, helping you to look slimmer and taller. To achieve this style, simply follow the steps for bed head hair, but follow up by gathering some of the hair at the front and sides of your head and secure with a pretty barrette. You can also pull a few tendrils of hair out to surround the face and soften the look.
Braids
Braids can also look very sexy and with this style, you have a few different options:
High Single Braid: Gather hair up into a high ponytail, secure with a hair tie, and then braid the main, securing the bottom, yet again, with a second tie.
Braided Updos: If working with micro braids, you can do a half up do, or gather all of your braids into a high bun.
French Braid: You can also gather your hair into a lovely French braid for a neat, but sexy look.
Ponytail
Ponytails usually look stunning on women, so this is yet another option. This can be a tight ponytail, or a loose one, depending on your desired look.
Short Haired Maven
If you have short hair, there's no need for you to feel left out when it comes to sexy styles. Explore alluring styles, from wispy to sleek.
Go Wispy
If you love keeping your hair short, consider a wispy haircut. In order to do so, you'll need to visit your stylist, as he or she will be able to utilize the proper tools, including razors, to help you achieve this look.
Slicked Back Style
A slicked back, wet look can also be quite sexy because it can highlight the fine features of the face. Additionally, this is also a fairly simple style to pull off as all you'll need is some styling gel.
Utilize Clips and Barrettes
Hair clips can also give you a sexy vibe, depending upon how you place them. Two ways that can help with this feat is to either use a clip to hold your hair to one side, or alternatively, you can gather all of the hair at the front of your head (where your bangs would be) and clip all of it back. Be sure to leave the sides of your hair and back, free.
Shoulder Length Seductress
Those with shoulder length hair also have a number of options for flirty hair.
Side Part with Waves
This can be a very glamorous, as well as sexy, look. To start, create a deep part in your hair. You can then use either a curling iron or curlers to create smooth waves. Finish the look off by applying a bit of shine-enhancing serum.
Consider Bangs
If you don't already have bangs, you may want to consider this style. Bangs tend to look delicate and wispy, and that in turn can look very sexy. Sideswept bangs are a slightly mysterious look that can be very alluring.
Try a Longish Bob
Bobs almost always look sleek and sexy, but a long bob offers a bit more overall softness to the face, thus creating a sexy look. However, if you want to try this style, it's best to let the professional help you to achieve it with the right cut.
---
No matter which style you choose, be sure and gather any and all potential styling equipment well before you actually embark on your new look. This way, once you begin, you'll have everything you need to create a stunning new look right at your fingertips. Sexy hair looks can range from sweetly flirtatious to high-volume glam. Choose what makes you feel confident and beautiful.