Images of Inverted Bob Hairstyle
Stylish Inverted Bob
An inverted bob is tapered short at the neck and left longer towards the face, creating an asymmetrical shape. The hair is often layered to create volume, and bangs can be cut straight across or to the side for an edgier look. This style is ideal for those with straight hair. It also highlights a long, swanlike neck or lengthens a shorter neck. The inverted bob is also known as a concave bob, stacked bob, or wedge bob.
Easy To Maintain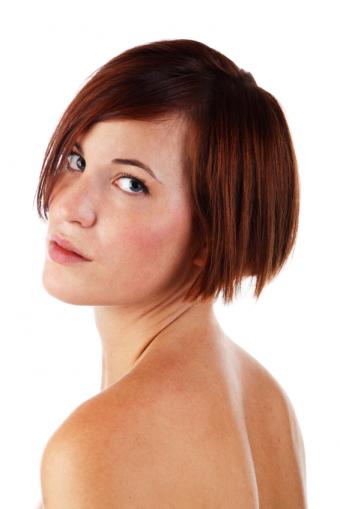 The inverted bob does not require much maintenance. Regular trims every four to five weeks will keep the style fresh and looking clean. If your hair is naturally straight, all you may need to do is wash and go. For those with some wave, use a flat iron or straightening serum to smooth your locks.
Fun With Color
Add some pizzazz to your bob by experimenting with color. You can add subtle highlights for a natural look or go bold with chunky highlights that frame your face. Another option is to change your color completely to something new and unexpected.
Variation On Length
An inverted bob can vary in length from super short to long. A longer bob can reach the shoulder and taper dramatically in the back. Some inverted styles are more pronounced than others making the inversion very prominent. Inverted styles can be one length all around or use layers to break up the hair and add additional volume. Bangs can also vary in length and style.
Modern Style
The inverted bob is one of the most popular and requested hairstyles. Many celebrities have sported the look including Victoria Beckham, Jenny McCarthy and Kelly Clarkson. This stacked style is always in fashion and can be worn by women of any age.
Dramatic Change
If you have been stuck in a hair rut, consider making a dramatic change and going for an inverted bob style. This hairstyle will get you noticed and will instantly freshen up a tired look.
Simple yet Sexy and Fun
An inverted bob hair style is a simple hairstyle that is quite versatile. It can look sexy and sleek as well as fun and playful. This hairstyle has different options available allowing a woman to personalize her look however she likes.