Pictures of Micro Braid Hairstyles
Micro Braid Style Variations
Micro braids are a fun look that will work on most lengths and types of hair. Depending on the length and texture of your hair, there are a number of micro braid hairstyle options.
Cornrow Braids
One of the most popular micro braid hairstyles is a variation on cornrow braids. Cornrows are easy to maintain and are the healthiest form of micro braiding for your hair since they lie flat on the head placing less pressure on the follicles. They also reduce the chances of damage to hair or hair breaking off from the braids.
Creative Braiding
Micro braids can be done directly from the top of the head like regular braids. This is the most common technique used with Caucasian or longer hair. It is usually achieved with extensions. Extensions can allow for more variety in styling once the braids are in place and add length to the overall style.
Braided Updo
Looking for a unique updo option? Micro braids look great pulled up and can be easily secured with an accessory or clip. This look is just as appropriate for an elegant special occasion as it is for everyday wear.
Wet and Wavy
Micro braids can be done when hair is either straight or curly. When done on curly hair, the result is the "wet and wavy" style. The braids actually look wavy when done.
Some feel that when braids are done on curly hair, it can frizz or not last as long than when it is done on straightened hair. If you notice your braids starting to frizz, use a serum that is designed to fight frizz to make them look their best.
Partial Braids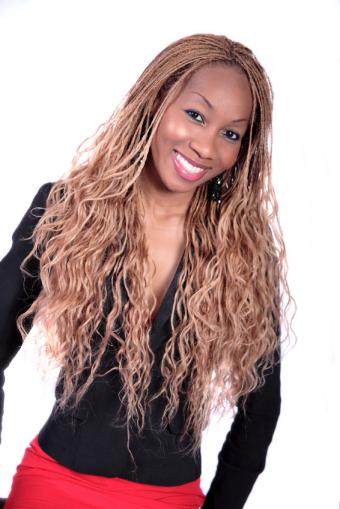 Microbraids can be limited to the top portion of the hair beginning at the roots. With this style, the ends are left natural and can be worn curly, wavy or straight. This method of braiding tames and gives control to the top of the hair.
Braided Bangs
Many woman use micro braids all over their head. When wearing braided bangs, you can either wear them loose or secure them in a headband or clip to keep them off your face.
Pulled Up Ponytail
A great way to wear braids is pulled up into a ponytail. The ponytail can be worn up high or worn down low. Either way, it will look great and keep your braids off of your face and out of your way. This style is perfect for days when you are on the go or when the weather is really warm and you don't want to bother with your hair.
Braid Accents
Microbraids can be customized to your personal style by using fun and colorful accents. Consider securing your braids with beads on the ends or by using colorful elastic ties.
Styling Tips
Micro braids are versatile, making it possible to wear them down or in a ponytail.
Using accessories such as beads is quite common with micro braids.
Many women with long hair style their micro braids exactly the same as if their hair wasn't braided.
Many prefer to just wash their hair and let it go.
Micro braids can cause damage to the hair. Due to this reason, you should style it as little as possible.
Add Some Flair
Micro braids are an elegant look that can add a low-maintenance, stylish flair to your look. Many black hairstyles use micro braids as part of the design due to the low maintenance required once they are done. If you take care not to add too much stress to your micro braid hairstyle, you can enjoy a creative and stunning look for many months.