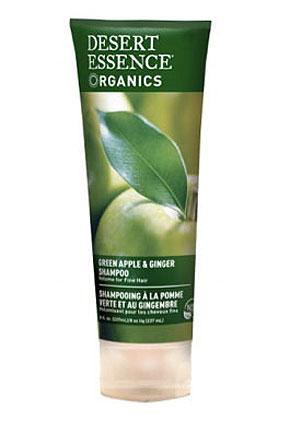 The advantages of natural hair products are so numerous it is no wonder that there are so many holistic hair care options. With cancer and autoimmune disease rates on the rise, the public is developing deeply rooted concerns about environmental toxins, many of which can be found in household beauty items such as shampoos and face creams. Natural hair products seek to eliminate the use of toxic ingredients while employing botanical extracts and cleansers to shape, style, and clarify the hair.
Big Names in Natural Hair Care
Desert Essence
Desert Essence offers a line of organic shampoos and conditioners that employ all natural ingredients to clarify, thicken, and protect hair. These products contain no EDTA, phthalates, artificial fragrances and colors, silicones, glycols or lauryl/laureth sulfates. They are also 100 percent vegan and also gluten free.
The Desert Essence Green Apple & Ginger Thickening & Volumizing Shampoo not only lives up to its claims of creating beautiful bouncy hair, but it offers the biting scent of fresh sour apples with a subtle ginger kick. As expected, only cleansers based on sugar and coconut oil are used.
If you enjoy the tantalizing flavor of grape soda, then the Desert Essence Organics Italian Red Grape Shampoo will make showering the most important point in your mornings. This lusciously scented shampoo mimics the cherished smell of grape candy while protecting processed hair from harmful UV rays; it also works to repair damaged strands.
Aubrey Organics
Aubrey Organics has solutions for dry, oily, and normal hair, from shampoos and conditioners to styling aids. The company has been around since the 1960s, when Aubrey Hampton started it. From its very beginning, the products were natural and plant-based, and this was the first line to use coconut oil's fatty acids in hair care products.
If your hair is dry, try the Honeysuckle Rose Shampoo with rosa mosqueta, organic argan, chrysanthemum, angelica, and magnolia oils.
Just want the basics for normal hair? Consider the Blue Chamomile Shampoo with organic Moroccan blue chamomile oil, Moroccan argan oil, and horsetail extract.
Avalon
Essential oils are paving their way into the hair care lines of many popular brands, but Avalon products have long since appreciated the health promoting properties of botanical oils. This commitment to fresh scents and essential oils has led the Avalon company to become one of the leading providers of natural hair products.
The Avalon Rosemary Volumizing Shampoo uses rosemary oil to normalize oily scalps while increasing circulation. This common essential oil has been thought to promote hair growth.
Maybe you need a little kick in the morning. This just one reason to try the Avalon Peppermint Revitalizing Shampoo which employs organic babussu oil to moisturize the scalp and restore the hair's natural strength and elasticity. Moreover, that refreshing peppermint tingle will soothe tired scalps and grant you the awakening required for early mornings.
Burt's Bees
Easily accessible and affordable, Burt's Bees has natural shampoos and conditioners for volumizing and moisturizing the hair. Burt's Bees not only provides natural products, but they make special efforts to reduce their carbon waste and improve the environment by recycling, energy conservation, and water reclamation.
Aveda
Whatever your hair care needs, there's a good chance Aveda can meet them. Not limited to shampoos and conditioners, Aveda offers styling products and even additional products to treat particular hair issues, like thinning hair or damage. Over 95 percent of the ingredients used are natural, and they're harvested all around the world. Aveda can be found at Aveda retail stores or salons, the majority of these hair care lines can also be purchased from stores like Whole Foods and Trader Joe's.
Benefits of Natural Hair Care
Regardless of the specific brand you choose, opting for natural hair products is beneficial in many ways: it protects your health, your hair, and the environment. As concern grows for the effects of harsh chemicals and unknown compounds, natural products are a logical choice for savvy consumers.