If you crave perfectly coifed on-stage beauty, salon owner and former Miss USA Maria Lekkakos shares her award-winning pageant hair tips. Since 2000, Maria Lekkakos has been recognized nationally and internationally in the beauty and fashion industry, and her expert advice can help you have a show-stopping style.
Pageant Hair Tips and Tricks
Styling and Color Advice
LoveToKnow (LTK): What is the difference (if any) between pageant hair and traditional formal styles?
Maria Lekkakos (MK): Back in the 80s pageant hair was very big and unlike traditional formal styles. Today, pageant hair is no different than traditional styles. In general, pageant hair today mirrors what's on the red carpet and is long and sleek.
LTK: Do pageant hair contestants wear hair pieces or extensions for style versatility?
MK: Hair pieces are out, but hair extensions are in and many pageant girls today are using them.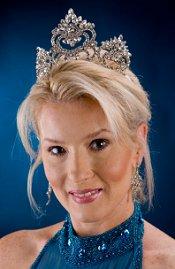 LTK: What's the best hair length for pageant contestants?
MK: The best hair is mid-length (from the bust up), which is very sexy. Pageant contestants should have long hair because it will elongate everything, including their body. On TV and on stage everything looks smaller and shorter. If hair is short that will shorten one's overall appearance, so girls should keep their hair long.
LTK: Should pageant gals opt for vivid or bold hair color in effort to stand out under the bright lights?
MK: Pageant hair should always look like a natural hair color without obvious lowlights and highlights because the bright lights on stage will accentuate them. Stage lights will also pull out color (i.e. green) that doesn't look like one's natural color so keep it natural-looking and shiny even if it's highlighted.
Everyday Healthy and Goegeous Hair
LTK: Do you have any pageant hair tips for keeping hair shiny and healthy?
MK: Don't wash your hair everyday because that will take the shine out. Wash it only every 2 to 3 days so as to keep the cuticle hydrated. Pageant hair can become dry and brittle easily due to over styling and cutting back on washing it allows hair to retain natural oils in the follicle. Also, use a shine enhancing product to keep hair fresh and shiny and a volumizing mousse to keep it full.
LTK: Can you share your favorite pageant hair tips that women can use everyday to create sexy and full hair?
MK: Always wear your hair in a high ponytail (on top of your scalp) at night in a scrunchy because it will create fullness. With reduced washing, one will have excess hair oil that tends to flatten the hair. By keeping hair in a high ponytail it will help to create volume. Also, scalp massage is another great way to help create full hair. Using your fingertips, start in the back of your scalp and massage your hair follicles. This distributes the oils and mattes your hair so that the oils aren't concentrated in one place.
LTK: Please share your must have hair product.
MK: Prive Shine Brilliance is must-have! It keeps even abused hair full and shiny.
LTK: If a woman had only five minutes to create a pageant-winning style, what suggestions would you give for a show-stopping look?
MK: A popular and quick red carpet pageant look is a loose, high ponytail with hair wrapped around it and a poof at the scalp. Alternatively, one can use the tricks above to create a straight or wavy style.
More About Maria Lekkakos
Raised in Rockport, Massachusetts, Maria began her career as a Master Aesthetician and makeup artist with an infectious energy and true passion. Since then, Maria has trained in the fine European skincare traditions and has become one of the most sought-after celebrity makeup artists in Greece and the United States. Globally, she is widely recognized through a strong celebrity following and locally, by men and women throughout the Boston area.
To contact Maria Lekkakos or to book a salon/spa appointment, please contact:
M. Lekkakos Salon, Spa & Boutique
154 Main Street
Wenham, MA 01984
Phone: (978) 468-9540
In 2004, Maria was crowned Miss Massachusetts USA, an experience that has played an integral part in developing the award-winning M. Lekkakos Salon, Spa and Boutique.