For many women, creating pin up hairstyles is an exciting way to capture the feminine essence of a bygone era. Pin up styles with a modern flair can be recreated at home with a few hair products and tools.
Vintage Hair Styles
Few eras are as iconic as the 1940s and the 1950s as far as hair is concerned. With pin curls, finger waves, victory rolls, and exaggerated bangs still in vogue, pin up hairstyles were playful, flirtatious, and chock full of sex appeal. Vintage looks are all about volume, wave and curl. While these looks take some time to create, the volume allows the set to be worn for several days.
Long Soft Curls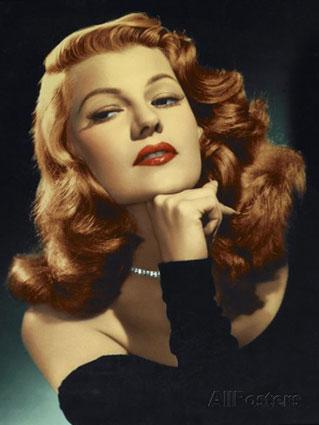 Rita Hayworth's beautiful curls were the envy of women in the 1940s. This is a style that has lasted through the decades and is a sought after look even today. There are very few items needed to achieve this style:
Velcro curlers or hot rollers
Mousse
Hairspray
Rattail comb
This style can be worn casually or for a formal party. It is best suited for long hair of any thickness with layers and can be done on freshly washed hair or second day hair. Here's how to get the look.
Part your hair on the side, either right or left whichever you are comfortable with.
If you are using Velcro curlers, your hair should be damp before you begin. Hot rollers should be used on dry hair.
Roll your hair down from the part. If using hot rollers, make sure they are secure with a clip.
Let hot rollers cool completely. Velcro curlers should be dried under a hood dryer. Depending on the thickness of your hair, this should take about half an hour. (Alternatively you can let you hair dry naturally for several hours or overnight.)
Gently remove rollers or curlers and use your fingers to comb through your hair. Do not use a comb or brush on the curls.
Using hairspray, sweep the bangs to the side and form the curl around your finger.
Lightly spray entire head with hairspray.
Long Waves With Bangs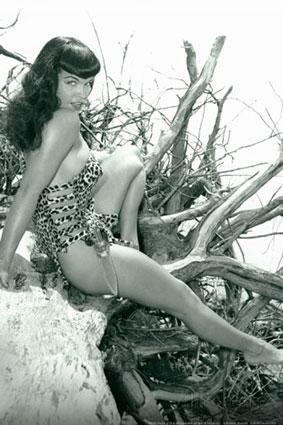 For a full on rockabilly-inspired hairdo, opt for the classic Bettie Page. This hairstyle is soft and feminine thanks to a cascade of soft wavy curls. For added edginess, a blunt bang is cut and left straight rather than curled and styled. Items needed to achieve this look are:
Hair gel or mousse
Alligator clips
Medium barrel curling iron, hot rollers or medium Velcro curlers
Rattail comb
The Bettie Page hairstyle can be worn with various hair accessories or a ponytail to dress down the look. This style works best with shoulder length or longer hair that is straight or has a slight natural wave.
Start with freshly washed, towel dried hair. Apply hair gel or mousse and comb through.
If using a curling iron, after the hair is dry, section your hair into three sections from ear to ear securing each with an alligator clip.
Working from the bottom section first, take two-inch sections of hair and roll under about two-thirds of the way up the hair.
Repeat this for the remaining two sections.
If using Velcro curlers, section your hair the same as for a curling iron and roll the hair under two-thirds of the way up. Secure the curler with an alligator clip. Repeat for the top two sections. Let hair dry naturally or under a hood dryer.
If using hot rollers, section and curl the hair as you would for Velcro rollers. Secure the rollers with the clips included with your hot rollers. Let the hair and rollers cool before removing.
When the curls are set, comb the hair gently with your fingers to break up and soften the curls. The crown area of the hair should be left straight.
Comb through gently to create the waves.
The Poodle
Betty Grable and Lucille Ball made this style famous. In the 40s and 50s, the poodle updo was done with pin curls or curlers. Today, it can be done with either pin curls or foam curlers. The items needed to do this hairstyle are:
Bobby pins
Old-fashioned foam curlers
Mousse
Hairspray
Comb or brush
This style is relatively easy to achieve and can be worn differently in the back. Lucille Ball wore either a French twist or a ponytail while Betty Grable wore the back smoothed up into the curls. It is best done on shoulder length hair that is straight or slightly wavy. It can also be done on naturally curly hair if the curl will brush out straight.
Start with freshly washed and towel dried hair. Apply mousse to damp hair and comb through.
If opting for the foam curlers, roll the hair at the top of your head in a V pattern. This will allow you to pull a couple of curls down at your bangs and allow the curls to drape over the bobby pins. The back and sides of your hair should be rolled up toward the top of your head. Make sure each curler is fastened.
Dry under a hooded dryer if you are in a hurry. To dry naturally, you can wrap a lightweight scarf around your hair and sleep with the curlers in.
Carefully remove the curlers when your hair is completely dry. Gently fluff and arrange the curls on top of your head, but do not brush them.
For Betty Grable's style, brush and smooth your hair up to the top of your head. Use bobby pins to secure the hair.
For Lucille Ball's style, brush the sides to the back of your head. Gather the hair into a low ponytail or make a French twist.
Gently pull the ends of the curls to drape around the edges and cover the bobby pins.
Use hairspray to smooth any hairs that are out of place.
Curled Bob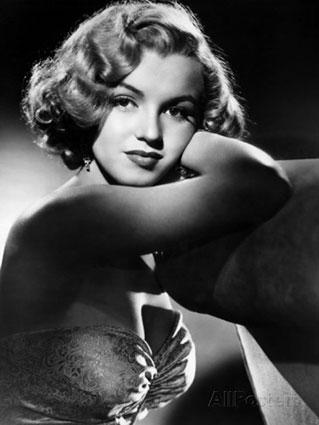 Marilyn Monroe wore an elegant, chin-length bob. This is yet another style that has stood the test of time and looks as great now as it did then. You may already have the few things required to achieve this look.
Mousse
Medium barrel curling iron
Hairspray
Hair brush
This style works best on straight hair that is already cut into a bob that falls at or just below the chin or jaw line. It can be done on freshly washed or second day hair.
Apply mousse to damp hair.
Thoroughly dry hair and brush free of tangles. Part hair on the side.
Curl the ends of the hair under from ear to ear around the back of the head.
On the lighter side of the part, curl the ends back away from your face.
On the heavy side of the part, work in two sections - the bang area and just below the bang area. Curl the bang area under and slightly back. Curl the hair just below back away from your face as you did the other side.
Brush hair and reset the curls at the sides of your face with your finger.
Lightly mist all curls with hairspray.
Classy Curls
Elizabeth Taylor's soft and classy hairstyle of the 1950s was one that many women mimicked. It's an easy style that works well for special occasions. To achieve this look, you will need:
Velcro curlers
Mousse or setting lotion
Hairbrush
Rattail or teasing comb
Hairspray
This style is best achieved on collar-length layered hair. It does not matter whether your hair is straight, wavy, or curly for this style.
Apply mousse or setting lotion to freshly washed, towel dried hair. Comb hair well.
Part hair on the side, whichever side you like.
Roll all the hair down from the part. Lift the hair up before you roll to add volume to fine hair.
Dry under a hood dryer. This should take about thirty minutes. Alternatively, wrap your head in a scarf and allow your hair to dry overnight.
Gently remove the curlers.
Using a rattail comb or teasing comb, tease the top of the hair to blend the roller marks. If you have thin or fine hair, you can add tease down to the temple area and back below the crown area.
Gently comb the hair to smooth it, but take care not to comb out the tease.
Use your fingers to break up the curl in the rest of the hair. For softer curls, use the hair brush to break up the curls and soften them. If you want more defined and full curls, use the comb to tease the hair to break up the curls and blend the roller marks. Either way, comb the ends of the curls around your fingers to define and place them.
Lightly mist your hair with hairspray.
Modern Sophistication
The pin up era is known for flirtatious and sexy styles. Vintage hairstyles still work with today's fashion styles which is proof of their lasting appeal and beauty. Experiment with a variety of classic looks and work your style with confidence!