Images of Punk Hairstyles
Punk hairstyles were originally a way to identify with a certain culture or style of music. Today they are just another way to express your unique style and identity. From bold and radical colors to nontraditional cuts and styles, punk hair is the perfect way to express your individuality. Browse through the various images to see how others have creatively shown off their style.
Gothic Punk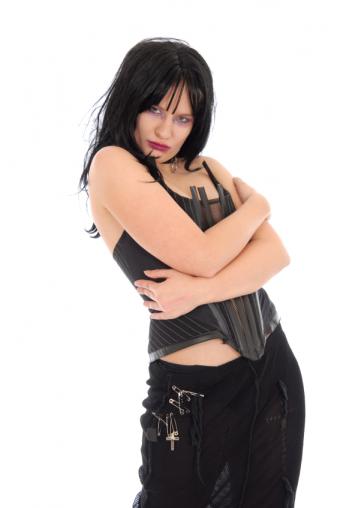 Dark black hair against pale white skin is the ultimate gothic punk look. Try an asymmetrical cut that is edgy yet still stylish or wear it long and carefree.
Bold Colors
Color is important element for punk hair. Experiment with bold colors such as pink, green or blue to express your inner mood. The fun thing about being punk is that anything goes. There are no rules for color so go wild and change your look as often as you like.
Choppy Locks
Anything goes when it comes to being punk. Choppy, intentionally messy styles are not only fun to do but look great as well. Add in some highlights to accent the layers and you have an edgy style as original as you.
Mohawk Madness
Mohawks can be the perfect look for a night out at the clubs. Be careful wearing one to your place of work since it could cause a controversy. Consider a style that can be worn flat during the day and be spiked when you are feeling daring and wild.
Short and Sassy
Super short hair is perfect for a punk look. Short hair can be styled in a variety of ways and can take you from looking polished to punk just by adding products. Experiment with different looks to find one that best expresses how you feel. Being punk is all about attitude and showing off your individuality.
Anything Goes
When going for a punk look, anything goes. Have fun with your style and do the unexpected! Go wild with your hair and show off your avant garde nature and unique style.