Shampoo Dispenser Guide: Choosing Your Best Options
A good shampoo dispenser can make your shower seem less cluttered and remove that experience of fumbling around for bottles of all sizes while you have water in your eyes. They can also make your shower feel more spa-like and sophisticated when all of the bottles or containers in it have a similar aesthetic.
Wall-Mounted Dispensers
Keep your shower clutter-free by mounting your shampoo on the wall. With the push of a button or lever, you can get the product you need. Washing your hair may feel even easier than usual. You won't have to worry about knocking over your bottle of conditioner or body wash in the process, either. If you're low on shelf space, this could be the perfect solution. You can even get wall dispensers that hold your shampoo, conditioner, and body wash.
Ulti-Mate Shower Organizer
The Ulti-Mate Shower Organizer - 3 Dispenser (just over $40.00) is one way to keep everything organized. There's room for your shampoo, conditioner, and body wash (15 ounces of each), plus a mirror, a spot for a bar of soap, and slots to hang a loofah, toothbrush, and razor. There's a shelf on top where you can store additional items.
The wall bracket stays in place when you need to lift the organizer out of the shower to refill the containers. You won't need tools to hang it up. Take extra care to hang it correctly since it will be heavy with all of those sections and shelves filled.
simplehuman Wall-Mount Pumps
The simplehuman® Triple Wall Mount Soap Pumps (between $30.00 and $70.00) are available in single, double, or triple setups, so you only have to get as many as you need. Just want one for shampoo? Pay closer to $30.00. If products abound in your shower space, you may want all three (closer to $70.00).
These look sleek, with their rust-resistant stainless steel and plastic design, and each chamber holds 15 ounces of product. You can mount these with mounting strips and silicone glue or use the wall-mounting plate, but be aware that the hardware to use the wall-mounting plate is not included.
ToiletTree Dispensers
The ToiletTree Products Shampoo and Soap Dispensers (about $20.00) come in simple white and they're made of plastic. The company claims that they have a no-drip design. Each side holds 16.9 ounces of product.
Considerations
The only potential issue with these is how inconvenient it could be to refill some designs. It takes a little more effort than tossing one bottle of shampoo and putting a fresh one on the shelf. Be sure to check out the design of the one you like to make sure it's not more of a hassle than you're willing to deal with every couple of months. Another thing to consider is whether you can see how much shampoo you have left so you'll know when to buy more.
Pump Bottles
These won't necessarily free up any space because they don't hang on the walls, but you can use them to make your shower look nicer and make it easier to dispense your shampoo. Instead of juggling different-sized bottles of products with labels in all colors, you can have them all match.
Luxury Plastic Dispenser
The Luxury Plastic Soap Dispenser With Jewels (about $10.00) comes in black, white, red, and purple acrylic. Each one has a strip of shining rhinestones down the side. If you want to add a glam effect to your bathroom, these are one way to do it. Get one for your shampoo, conditioner, and body wash, or just stick to one for shampoo. You could even get one for your handsoap so everything matches.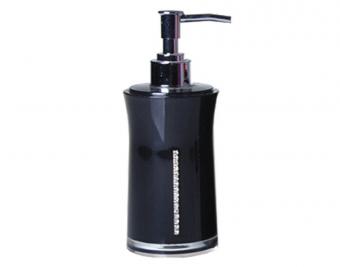 JustNile Acrylic Dispenser
The JustNile Acrylic Dispenser (about $10.00) comes in orange and purple. It only holds about six ounces, but if you're okay with not having the full 15 ounces that some of the other shampoo dispenser options hold, these could be the perfect option. If you have a small shower or not a lot of distance between shelves, they might be just what you need.
mDesign Classic Dispenser Pump
The mDesign Classic Dispenser Pump comes in a pack of two. Choose from clear/brushed nickel classic, clear/brushed nickel modern, and clear/chrome transitional. Prices vary between styles but they're all under $15.00.
These are the opposite of the JustNile bottles, ready to hold 34 ounces of product and easy to refill thanks to a wide opening at the top. The only concern with this style is whether they're too big for a shower shelf. You won't have to deal with the inconvenience of needing to refill them very often.
What to Consider
With styles like these, you'll have a variety of colors, accents, and sizes to choose from. The only concern with these, since they don't attach to the wall, would be dropping them in the shower because of slippery hands. If you tend to be clumsy or just don't want to take a chance of injuring a foot, the wall-mountable options may be better.
Choosing Your Shampoo Dispenser
The design of your shower may not leave much room for choices when it comes to which type of shampoo dispenser you get. If you do have the luxury of choosing either choice, think about how you'll clean and refill it, how worried you are about dropping it on your foot, and which one will look best in the space. There's a dispenser to match any bathroom.