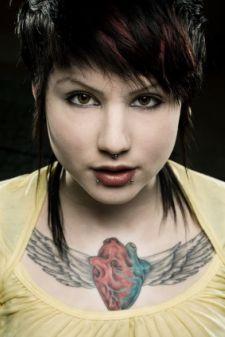 If you want to make a major hair change yet crave a unique look, short funky hairstyles may be a great option for expressing your individuality. These hairstyles are a fun and low maintenance alternative to long trendy hair styles. Although certainly not for the scissor shy, these looks can instantly add the drama and excitement you need to make the convincing snip.
Ideas for Short Funky Hairstyles
Women with short hair have a unique sense of style and confidence. While some women could never imagine loping off their locks in the name of a style, others feel a short style is expressive and unique, setting them apart from other women and traditional classic styles. No matter the reason, short hair should be celebrated for its versatility, ease of maintenance, and its ability to turns heads like no other style. If you've considered going short, take a look at some of the most noteworthy cuts that will celebrate your confidence while enhancing your natural beauty.
Razored Bob
A razor edge bob is a classic short hair style that has an inarguable edgy appeal. Razor cutting adds movement and texture to the ends of the hair, perfect for adding definition with molding pastes and creams. Although a razored bob isn't the most punk variation for short styles, it is a versatile cut that flatters almost everyone and can be played up or down with artful color placement and hair accessories.
Spiked
Another funky take on a short style is a spiked 'do. When hair is chopped into a pixie cut, the ends can be slicked and defined to create tough-chic spikes. For a new spin on a funky look, this cut can also be worn soft and tousled. Versatility makes this style another short hair trend that has indefinite staying power.
Because of the boldness in a spiked punk style, you'll need to have the personality to pull the look off. Not for the timid at heart, a short funky crop requires a dramatic and eccentric persona. Women who prefer a feminine and soft style may not feel their best in such a short hairstyle. To avoid a hair nightmare, consider your own confidence levels and personality before making such a powerful and bold statement.
Emo Hair
Short emo hair is popular in the teen goth/emo subculture. Emo is a mix between punk and goth, and these two looks can easily blend to create short and funky hairstyles. To create emo-worthy short hair, focus on a unique shape and hair color. The cut should be an asymmetrical shape with a longer bang that can be swept to the side of your face or spiked for versatility. The sides of the hair can be cut close to the head and cropped or left longer and shagged.
Emo hair color is all about bold and vivid hues. Don't be afraid to experiment with unconventional color, such as pink or purple dye to create a funky emo hairstyle. Other coloring techniques, such as chunking or painting, can be used to add a multitude of artistic color placement to the hair.
Styling emo hair in a funky manner is easy. Blow dry the hair on a high heat setting and avoid using a brush, instead use your fingers to pull on and separate the ends. For finish, work in a molding cream or paste and define the funky ends of your cut.
Style it Funky
No matter the cut, hair can look funky with proper styling prep and products. To create a variety of funky hairstyles, keep molding and texturizing products on hand. A hair dryer and straightening iron will help smooth out the hair shaft for straight and sleek styles. For a funky alternative to straight locks, revisit the world of crimping irons or pin curls to add texture and shape to your hair.
Accessories are great add-ons for instant funky appeal. Small barrettes or bobby pins in mix-matched patterns can create an edgy upswept 'do. Layered head bands are a quick and funky cure for a bad hair day. Stock up on fun hair clips and accessories to define your look and express your individuality while enhancing your new short funky hairstyle.
---
Short funky hairstyles can be fun and fabulous. Whether you want a very edgy look or one that is more versatile, you can add a bit of funk to your 'do with ease.