Short Choppy Hair
Any gallery of wild hair color pictures will show a rainbow of shades that can look great on any style if they're used appropriately. With care, even the funkiest hair colors can add distinction and flair to any style. Multiple colors, for example, can help define a choppy cut by highlighting different layers.


When choosing a funky color, opt for a shade that not only complements your hair style, but also one that works with your personal style, complexion, and personality. Outrageous colors can be challenging to maintain, but they can also be a great way to make your style your own.
Bold Red Streak
A bright red streak will stand out in black hair. For the best effect, choose a wide, visible streak instead of blended hair highlights that won't have as much punch.
Pink Dreadlocks
Dreadlocks can be a fun feminine look when they're colored a bright shade of pink. A color gradient, such as from red to pink, adds more softness to the style without lessening its impact.
Ice Blue Emo Hair
Many people assume that emo hair color needs to be dark and gloomy, but it can actually be any shade you choose. Opt for a unique shade of ice blue, bright purple, hot pink, or platinum blonde to express your individual style.
Teal Hair Highlights
If you're not ready for all over wild hair color, consider unusual streaks or highlights. Bright shades such as teal work well in dark hair and will be most prominent in a long sedu style, or you can consider a purple hair highlight for more subtle color.
Multiple Highlights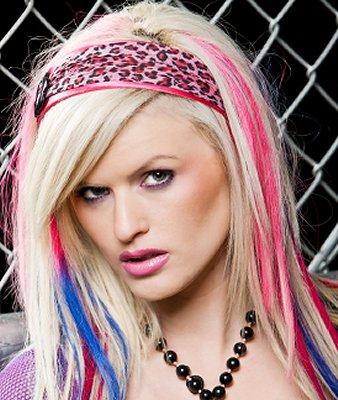 There is no rule that says your wild hair color has to be restricted to a single shade. Blonde hair highlights can be pink, blue, purple, green, or any other combination of hues you like. Darker hair will need brighter highlights for all the shades to be visible, but it can be just as multi-colored.
Rainbow Shag Hair
Different hair colors make a basic shag hair cut more vibrant and interesting. You can choose random mixed colors or may choose stripes or chunking color techniques. To make the color stand out even more, use hair gel or a sculpting paste for spikes and texture.
Green Curls
Subtle lowlights in a funky color can be used to add a little spice to your curly hair. Use temporary hair dye to match your colors to your makeup or your attire for a special occasion.
The Blues
If you've got the blues for your regular hair color, why not try a blend of blues and greens for a funkier look? Blue and green shades blend together well and create a natural variation within wild color.
Funky Blonde Hair
Brighten up your blonde hair by adding subtle pink and orange highlights. Using mild shades will add a definite tinge of wild to your color without overpowering its base hue.
Green Hair Highlights
Show your support of the environment with a burst of green. Highlighting your bangs is the most eye-catching way to add wild hair color to your look without need a complete color job, or you can color just the tips of your hair or tendrils to frame your face.
Blue and Red Hair
If you're into the music scene, why not add a little color to your scene hair style? Dark hair works well with cool color shades such as blue, while a touch of red on the ends can heat up your look. If your hair color and complexion can support it, do both!
Tinted Dreadlocks
Use a color gradient to turn dreadlocks into a bright, eye-catching style. Keeping a bright shade near the crown of the head while the color darkens toward the end of the hair will add visual volume to your style.
Bright Gold Hair
If you don't have Irish red hair but still want to try your luck with wild color, consider a vibrant gold. Because this color mimics a natural shade, when it grows out darker roots you will just have a more distinctive look instead of an unkempt one.
Purple Buzz
A military hair cut won't look regulation when you add a bright hair color to it. With such short hair, bold colors are the best: consider purple, green, pink, teal, or orange for the most visible style, or be patriotic with red, white, and blue stripes.


Haven't found your perfect wild hair color? Check out these articles for more pictures and color tips.