From vampires to werewolves, the hit Stephanie Meyer Twilight book series is a pop culture phenomenon, and trendy Twilight hair styles can be an easy way for anyone to be a part of their favorite pack or coven.
Twilight Books and Movies
The four book Twilight series and its corresponding movies is a hit not just with teens, but also with anyone who enjoys paranormal fiction and fantasy. The stories blend modern day characters with supernatural superstitions to create unique personalities and traits, using vampires and werewolves for drama and tension. While adopting the hair styles of the Twilight movie characters will not give you their powers of immortality, strength, or speed, the right superstar hair style may just give you the confidence to feel as all powerful as these characters are.
Popular Twilight Hair Styles
All of the Twilight characters have a distinct look, and it can be easy to adopt their hair styles for your own.
Bella Swan
Bella Swan (Kristen Stewart) is the female lead in the Twilight series, and she falls tragically in love with Edward Cullen. Bella's simple styles and unassuming look give her an innocence that contrasts sharply with the supernatural world she becomes a part of.
Bella's signature look is long, wavy brunette hair worn loose and carefree. For practicality, Bella might pull her hair back with a thin headband or opt for a messy ponytail. For a special occasion, such as her prom hair, she pulls the sides back slightly with bobby pins but doesn't choose much ornamentation. This is great news for Twilight fans, because they can easily emulate Bella Swan hair styles without needing special styling tools or products.
Edward Cullen
Edward Cullen (Robert Pattinson) is the counterpart to Bella Swan: the vampire she falls in love with. While he loves her just as much, he is also waging an inner battle as he thirsts for her blood. That conflict is evident in his appearance and hair style, as Edward generally looks just a bit tousled and torn apart.
Edward's hair is medium length and wavy, with a medium to dark brown color enhanced by subtle highlights. Guys can use hair gel to style their locks into a similar look with appropriate texture and mild spikes, though the bangs should be kept loose across the forehead with just a hint of curl. Edward's look is always a bit rumpled, and this bed head hair style is perfect for any carefree personality.
Alice Cullen
Alice Cullen (Ashley Greene) is another vampire, but she is an impeccable fashionista with a flair for style. It is no surprise, then, that her hair is just as delicate and flirty as her appearance and personality are said to be. Her chin length flip style is heavily layered from the chin to the eyebrow, and you can use a curling iron to give the ends of each layer an extra bouncy flip for texture. Wispy bangs should just brush the eyebrows, and a quick spritz of hair spray will help the style keep its body and definition.
Rosalie Hale
Rosalie Hale (Nikki Reed) is a vampire diva with a gorgeous body and hair to match. Her long, golden hair is thick and wavy, and she typically wears it loose and flowing down her back with sections drawn over her shoulders to emphasize its thickness. A wide barrel curling iron can help you get the body of this style, and you'll want a blonde hair shade that is bright but cool with ash lowlights. Rosalie parts her hair in the center, but she may pull it back into a half updo with thin tendrils in front of her ears.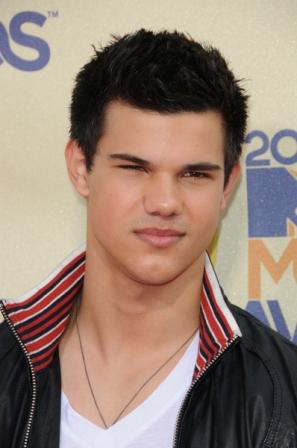 Jacob Black
Jacob Black (Taylor Lautner) is a Native American from the Quileute tribe and one of Bella's best friends. Early in the books and in the first movies, he wears his hair straight and long, often loose around his shoulders. As he matures and becomes a werewolf, however, he crops his hair to a uniform buzz cut, leaving the top slightly longer and spikey. This is a great look for any guy, and a small amount of hair gel can help create the soft spikes that are characteristic of Jacob's style.
Carlisle Cullen
Dr. Carlisle Cullen (Peter Facinelli) is the first vampire of the Cullen family, and the patriarch of the coven. His no nonsense slicked back style is perfect for his demanding career, yet it is a gentle blonde hue with brown hair lowlights shades that match the gentleness of the character. For this style, the hair should be medium length and slicked sharply back with a strong gel, wax, or pomade, curving slightly to the left for texture and distinction. This is a strong hair style that won't work well for every face shape, but it can be perfect for guys and an oval face.
Tips for Your Twilight Hair
No matter which Twilight character is your favorite, you can easily try out different Twilight hair styles. From long locks to a short buzz, all these looks are accessible, but always consult your stylist first to be sure the look is suitable for your face shape. Slight alterations can help you have a dramatic look that will make you just as glamorous as any Hollywood vampire.