Best Hair Styling Products
Finding the best styling products for your type of hair and intended style is paramount to achieving the look you want. When it comes to choosing the products that are best for your budget and styling needs there is a lot to sift through. It is always important to consider the type of hair that you have, along with the products you may need in order to achieve the desired style of hair you would like.
Nine Top Picks for Versatile Styling
No matter how you like to style your hair, there's a great product out there for you. Many of them are versatile and multi-purpose as well, such as moisturizing or strengthening at the same time helping you create gorgeous styles. Here are nine of the best products for many different styling needs.
Gel
Many styles require the use of a medium hold gel, on wet hair, that smells fantastic and does not flake while using heat to dry and style the hair. This is why many stylists recommend using Aveda's Confixor Liquid Gel. Available for just over $20, it conditions and strengthens your hair with morikue proteins. The product helps create definition and is recommended for fine to medium hair types.
Expert beauty blog Total Beauty listed it as being one of the best eleven hair gels available, claiming, "Our readers love the amazing smell, smooth look and strong hold." It also has high ratings on Aveda's website, with an average rating of 4.7 out of 5 stars. Users praise the gel's firm hold without stiffness, great fragrance, and ability to tame hair with a small amount of product.
Shine and Frizz Control
People with naturally curly hair or hair that is consistently straightened need to have an easy-to-use shine product to turn to on occasion. Bumble and Bumble's Hairdresser's Invisible Oil (sold for just over $20) helps to strengthen the hair shaft while controlling frizz and adding shine with a mix of six natural oils, including: grape seed, coconut, argan, macadamia-nut, and sweet-almond. The hair oil is ideal for all types and colors of hair.
In a review of the product on Fashionista, editor Karina Hoshikawa, writes: "Just a few spritzes help to soften, detangle, tame frizz and flyaways and protect against breakage, heat-styling and UV damage," and rates it a 10/10. On the brand's website, 95 percent of users recommend the product, claiming it is the perfect styling aid and leaves hair soft and silky.
Light-Hold Hair Spray
Having a light hold spray on hand is especially great for fine hair, and can also be used on dry hair to help hold the curl or to control tiny hairs in an updo. When curling, straightening, or applying rollers to your hair, Schwarzkopf Osis+ Elastic Finish, just under $20, will provide a light, flexible hold that is natural and easy to comb out.
Hair product review site Hair Spray Central writes: "Osis+ by Schwarzkopf needs to be recognized as one of our preferred products," due to its excellent medium-strength hold, good price, flexibility, and lack of residue. On Amazon, the average rating is a strong 4 out of 5, with consumers praising the product's ease of use, lightweight hold, and frizz control.
Firm-Hold Hairspray
For updos and styles you don't want to budge once we have put them into place, you need a firm-hold hairspray to depend on. Aveda's Control Force, sold for about $30, provides for the firmest hold, all the while defending your precious style from drooping or frizzing in humid weather. The combination is essential to holding your hair in place.
Popsugar has listed this hairspray as an essential product, writing: "If you like a firm-hold hairspray without the crunch, I think I might have the perfect product for you." The Popsugar review reveals that the spray sets hair instantly, has a great fragrance, and doesn't leave hair frizzy.
Mousse
When starting with a wet head of hair, mousse is a go-to product that is easy to use and adds hold from the scalp all the way down to the ends of your hair. Joico's JoiWhip Firm Hold Designing Foam 07, which retails for less than $20, is a firm-hold mousse with kukui nut oil and evening primrose oil that help to condition and moisturize while adding body and shine. It is perfect for all hair types.
Total Beauty named it their number one mousse, sharing that users "love that they can air dry their hair without the mousse making their strands stiff." Reviewers on Amazon on average give the mousse a strong 4.3 out of 5 star rating, and write that it works well for curly and fine hair, doesn't weigh hair down, and has long-lasting hold.
Texture
Women with short hair and men with modern hairstyles can require hold at the root, with separated pieces at the ends. Schwarzkopf Osis Flexwax, just over $15, is an ultra-strong cream wax. Perfect for many hairstyles, but especially excellent for short hair, this wax has a strong, moldable hold that lasts all day.
Is This Really My Life blogger Emily Hill writes: "This is my favorite, because it provides hold, texture and styling power without any greasiness." Stylist Charlie Taylor also recommends the wax for its control and maneuverability, especially on hair that can be unruly or difficult to style.
Heat Protectant
When blow drying or straightening every day, it is smart to use something that will help protect your hair from heat damage. Joico K-Pak Protective Hairspray, sold for under $20, does a great job of combining heat-protectant ingredients with long lasting hold and moisturizers, making it a great product to use on your hair. They have included a bio-advanced peptide complex to help protect and repair the hair with antioxidants and botanical conditioners.
Total Beauty named it their number one heat protectant spray, claiming that: "The dual-action product works both as a heat protectant and medium-hold hairspray." The versatility of this protective styling agent make it worth a place in your collection.
Curl Enhancer
If a curly look is what you like, try Bumble and Bumble Curl Pre-Style/Restyle/Primer, which retails for approximately $30. It includes their HydraSculpt Blend, with a mix of Brazilian oils. The natural oils help to moisturize and add much needed control to the curls.
The enhancer works with all curl types, but according to Rob Talty, a celebrity hair stylist interviewed by Health, the product can be used on clients "whether they have curly hair or not since it really controls frizz while also nourishing the strands and defining waves."
Straightener
Let's face it, you will need an amazing straightening iron for any hair straightening magic to happen, but you will also need something with hold and shine to help your hair look complete. Goldwell's Style Sign 1 Flat Marvel Straightening Balm (retails at just under $21) is light and easy to use while adding exactly what you need for a sleek straight look.
Test Team, a product review site that does real-life tests with everyday products, chose it as its number one straightening cream, claiming that: "It does the job better than the other creams on the market, and it does it with a relatively small amount of product." With its solid average 4.5 out of 5 star rating from Amazon reviewers, the product is a winner. Users appreciate how well it controls frizz, smoothing ability, and use on a variety of hair types.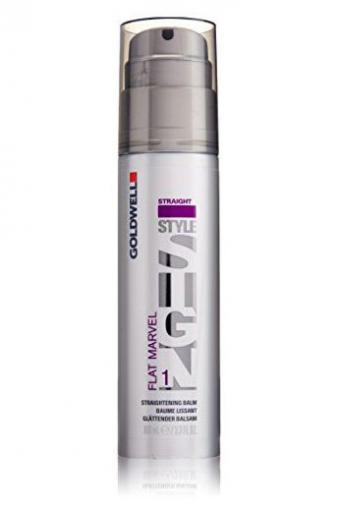 Select the Right Products for Your Hair
Not every product is best for every hair style and hair type, but these versatile, highly-rated choices in styling products can help give you a starting point to take your hair to the next level. When you choose quality products, you can create beautiful styles that reflect the look you want and work for your hair type while keeping it healthy and nourished.