Pictures of Haircuts with Bangs
Short Hair with Sweet Bangs
Bangs are incredibly diverse, and that's a very good thing because it means that you can wear bangs with a variety of hair styles. Point in case? Take a look at this short, yet sexy hair cut; these side swept and artfully arranged bangs make the entire look.
This hair cut that is shorter in the back and longer in the front works best for those that have fine hair. Texturizing cream will help you create this piecey look.
Razor's Edge
Baby bangs are quite common in modern styles, so to help yours standout, ask your hair stylist to razor cut the bangs.
This gives an edgy feel to bangs and looks cute when you wear them off to the side.
Baby Bangs
This choppy look with baby bangs embodies the best of cuts because a combination of razors and scissors are utilized to achieve this style.
Having your stylist use these two tools in tandem will help you achieve this romantic and slightly wispy look.
Sleek Style
Bangs can accompany a variety of hair styles, including a sleek bob.
This is a good choice if you have fine to medium textured hair and are searching for a no-nonsense hair style that will still look very fashionable.
Life on the Fringes
The blunt cut is a favorite of many, and fringe bangs with the cut can be fun and stylish. This look works best on medium textured to thick hair because these types are more likely to hold the look. This style is also a good fit for those that have a long to oblong face shape.
Asymmetrical Close-Up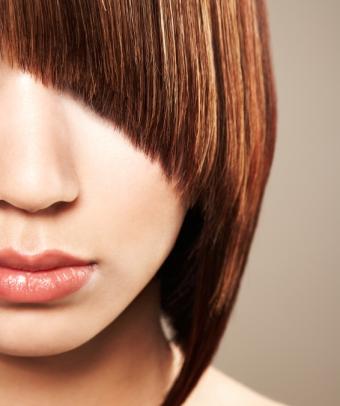 If you are searching for a look that truly stands out, then you'll definitely want to consider an asymmetrical cut.
This is a good choice if you have a heart-shaped to slightly oblong face shape. Additionally, this style works well for round faces as it will help to give a bit of contour to the face.
Real World Style
An asymmetrical cut might sound good on paper, but how can you wear it in the real world? Easy! The key lies in keeping up with your monthly trims; this way the look stays sharp.
You'll also want to use a bit of shine enhancer so that the look continues to attractively capture the light.
Emo Styled Bangs
Bangs work well with emo styles as well. The key to this type of alternative style lies in the careful application of color, as well as razored ends.
For a look this precise, you'll need the advice and skill of a hair professional, but for head-turning appeal, this look can't be beat.
Sideswept Sweetness
Gentle sideswept bangs are a great choice if you want to disguise a large forehead. They are also a soft yet modern look for bangs, or an easy way to transition away from shorter bangs.
This is an easy look to style; just ask your stylist to cut your bangs on the bias. This way they'll have a bit of movement and stay off to the side easily.
Blunt and Wavy
Those that are petite and fine-boned can truly benefit from a short, blunt cut.
These bangs are cut a bit short so that the hair frames the face, while the back of the hair has a bit more movement.
Long Layered Bangs
If you have long hair, and love bangs, then why not marry the two with a beautifully styled, long layered look? In order to achieve this style, you'll want to makes sure that your bangs are quite lengthy (about seven to eight inches in length).
From there, part hair on one side and style appropriately. For the layers, head to your stylist and ask for layers to cut into your hair. This style works with almost all face shapes.
Side Swept with Ponytail
Feeling sporty? If so, bangs can help when you need to wear a ponytail, as all you'll need to do is sweep the bangs off to the side.
For a bit more lift, use a large round hair brush while blow drying bangs gently, then part to the side. This will give the bangs a bit more body.
Bold Colored Bangs
Are you still looking for a way to make sure your haircut with bangs stands out? Why not opt for a beautiful bold punk color? Not only will your hair turn heads, but your bangs will look amazingly fashionable.
No matter what color you choose, keep in mind that you can always sweep your bangs to the side or clip them back for yet another unique look.