14 Permed Hairstyle Ideas From Cute to Elegant
Permed to Perfection
Even if you have not been blessed with natural curls, waves, and texture, you can achieve them with the help of a perm. This process allows you to create a wide array of show-stopping hairstyles with ease. That includes looks that range from romantic to sophisticated, bold, and on trend. Here are some permed hair style pictures to inspire your next look!
Casual Bun
The bun is about as versatile as it can get. It may appear sleek and upscale or it can be worn in a loose and laid-back manner. To achieve a casual look, start by gathering your hair into a high ponytail. Then twist the length, wrap the hair loosely around itself, and secure with an elastic.
Forget about bobby pins and hairspray. Keep this as relaxed as possible so all of those gorgeous curls show through. Not only is this a quick and easy hairstyle to achieve, but the finished product perfectly combines style and simplicity.
Face Framing Pieces
There is no easier way to give your permed style a glamorous finish than by adding in face framing sections. This works well with mid to long layers, however, those without them can still achieve the look. The next time you pull your hair back (whether it is being tucked behind your ear, pinned out of the way, or worn in an updo) be sure to leave one small section on either side of the face.
This will add softness and an element of romance to any hairstyles you wear. Perfect the style by spraying each piece with a flexible-hold hairspray. Though simple, this attention to detail will elevate your perm.
Romantic Braids
Few things are as whimsical and romantic as the combination of curls and braids. There are many versions to try, but one that always turns heads is an undone fishtail. Start by pulling the hair to one side into a low ponytail. (While this braided style can come up quite high, starting the braid lower will give it a more perfectly imperfect look.) Divide it into two sections and leave one smaller section free. Pull that smaller piece across the left ponytail over to the right ponytail.
Next, separate another small piece and pull it across the right over to the left ponytail. Repeat this process until you reach the end of the length and secure with an elastic. Make this style relaxed and romantic by loosening the braid with your fingers.
Sophisticated Updo
Those wanting an elegant updo often spend hours curling their hair. Not those who have a stylish perm! The best way to cut down on your styling time is to use all of those beautiful waves and curls to your advantage. Get the look by separating the top layer from the length and pinning it out of the way. Gather what remains into a high ponytail and pin up small sections using bobby pins.
Continue until all of the hair is up and secured where you want it. Then, unpin that top section, run mousse or a strong-hold gel through it, and sweep back for a sleek finish. Incorporate the ends into your curled updo using a few pins - and add on some hairspray to keep it all in place.
Half Up, Half Down
Want something both easy to wear and sophisticated? Then a half up, half down style is your best bet. This is a versatile hairstyle that can be worn just about anywhere. Plus, it works well with perms as the curls instantly add volume, texture, and bounce. All you need to create the look is a hairbrush and a sturdy clip.
Separate the top section of hair, brush it back, and secure with a hair clip or elastic. Push up to add a bit of extra volume at the root or keep it as is for a more classic finish. Leave the rest of the length down to highlight all of those beautiful curls.
High Ponytail
For a vibrant look that is fresh, fun, and flirty, consider a stylish ponytail. There are many advantages to this look, like how fast it can be pulled together and the fact that it keeps your hair away from the face. Begin by pulling your hair back, making sure it is positioned high up on the head. Hold the hair in place with your hand while you run a hairbrush along the sides. This step will remove any bumps or unevenness.
Complete the look by securing your ponytail with an elastic. Make it more extreme by pulling to tighten and add volume to the crown. Scrunch a curl-boosting mousse through the length for a more dramatic look or leave your permed curls product-free for a more natural finish.
Simple and Side Swept
This next hairstyle certainly knows how to sizzle. It plays with contrast and volume to create an unbalanced but oh-so-sultry look. Side swept styles are quite common, especially with celebrities on the red carpet. In fact, you will often see A-listers wearing something similar. Normally this look would require lots of styling time, but with a perm, the curls are already in place.
Brush through the hair and sweep it over to one side. Run a bit of pomade or mousse through the length to help it stay put and use bobby pins to secure the back. That last step is optional but it will make sure your hairdo lasts all night, leaving you both stylish and worry free.
Ultra Voluminous Curls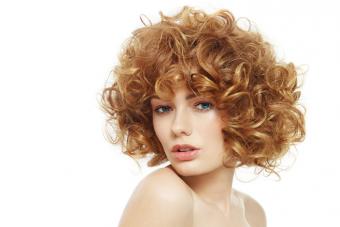 Why get a perm if you don't plan to show off all of those amazing curls? Maximize the impact you make by incorporating volume into your next look. Add height by using volumizing products (the TRESemme Beauty-Full Volume Shampoo and Conditioner both have great reviews) that create shape and give your locks a lift. Blow dry completely and scrunch a curl-boosting mousse through the length as you go.
For even more oomph, add volumizing spray to the roots of your hair. Use a fine toothed comb to gently tease, starting at the root. This will give you subtle lift that still makes a statement.
Deep Side Part
Nothing says special occasion quite like a deep side part. It has a little bit of everything: drama, elegance, and glamour. Though it can be worn during daytime events, this hairstyle is ideal for a night on the town. To achieve the look, start by brushing your hair back. Then use a fine-toothed comb to create a deeper part. It should be several inches further to the side than a typical center parting.
Make sure the line is clean and even, then add some hairspray to keep it all in place. On the side with the smaller part, tuck or pin the hair behind your ear so the fuller side stands out even more. From here, you can accentuate your curls with a curl boosting spray, like The Curl Maker by DevaCurl.
Playful Pigtails
If you like to be at the forefront of fashion trends, this next hairstyle is tailor-made for you. Not only have celebrities been sporting various versions of pigtails lately, it was also named one of the hottest hair trends by Allure. There is something playful and nostalgic about the look that has everyone desperate to re-create it.
Separate your hair down the middle so half is on the right and half is on the left. Gather the hair from one side, leave a small section free, and tie the rest with an elastic. (Your pigtail can be as high or low as you like, but for something cute and casual, aim for just below the ears.) Take that small section of hair and wrap it around the elastic to conceal it. Do the same thing on the other side to complete this super sweet style.
High Contrast Waves
A little contrast can go a long way, especially when you are looking to play up your perm. The combination of sleek hair with tons of voluminous waves is not just fun to create, it also oozes glamour! Depending on the type of perm you have (tight curls, loose waves, and so on) this style may appear more curly than wavy on the bottom. That is okay, simply embrace what you are working with.
To start, comb a strong-hold gel through the upper portion of your hair. Stop once you reach ear level or about halfway down the length. The product will make sure the hair on top appears smooth, straight, and has that trendy wet look finish. Leave the rest as is or tease the underside to reveal a fuller and more intense style.
Flirty and Floral
Sometimes, the most effective way to transform your hair is to add on an accessory or two. It can be small and sparkly (like some glittery bobby pins) or romantic and trendy (like a floral crown). If the latter sounds more your speed, consider re-creating the hairstyle pictured here. Start with a shampoo and conditioner for curly hair in order to add in lots of moisture, shine, and definition.
Once the hair is completely dry, add on a shine spray or shine-boosting topcoat. This will create a glossy and glamorous finish that is sure to turn heads. Carefully place a flower crown or floral headband over top and leave the rest of the hair down. Ultra curled or effortlessly wavy, this fabulous style is the perfect complement to your perm.
Get Creative With Your Curls
To get the pretty and romantic look shown here, you just need a simple claw clip. Twist the hair at the nape of the neck, then bring it up and secure the clip at the back of the head. Pull out pieces of hair around the face to frame it and give the style a carefree look and finish with a light hold hairspray.
There are many different types of perms, from full and partial to spirals and stack styles. Despite the variety of looks you can choose from, one thing always remains the same: beautiful curls. From casual to glam, the possibilities are endless. So, stop settling for lackluster style, try out one of these fabulous permed hairstyles.