Handmade Wedding Hair Accessories Interview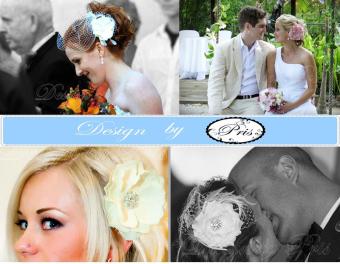 When Pris Batchelder got married, she discovered a talent for making handmade wedding hair accessories. Pris talks to LoveToKnow about her unique wedding hair accessories and gives tips to brides for their special day.
Design By Pris
Artist Pris Batchelder creates elegant and feminine wedding hair accessories for brides and members of the wedding party. Design by Pris offers many versatile accessories that can complement many different wedding hair styles.
One-Stop Shopping for Wedding Hair Accessories
LoveToKnow (LTK): What does Design by Pris offer brides?
Pris Batchelder (PB): Design by Pris currently offers:
A unique, quality hand-crafted hairpiece with a variety of designs to brides in various sizes and color.
Custom design hair piece
Custom modern birdcage veil
Bridal jewelry
LTK: Please describe your collections of bridal hair pieces and wedding accessories.
PB: The collections of Design by Pris are hand-crafted from a combination of different types of fabric and material. I would love to design and create a unique, one of a kind hair piece as I believe a bride-to-be deserves to look gorgeous and special on her wedding day.
Designing Bridal Hair Accessories
LTK: What type of materials do you work with to create many of your artistic bridal hairpieces?
PB: Most of the hair flowers are handmade with a combination of fabric flower, hand-cut fabric of silk, satin, organza, feathers, netting, quality rhinestone centerpiece, Swarovski pearls, crystals and clear crystals.
LTK: What is your favorite Design by Pris bridal accessory creation?
PB: All of my collections I offer are my favorite. When I create a hair piece, I always keep in mind that "If I am the one who opens the box, what I expect to see and receive." Therefore, I design and create each hair piece with my heart, the best craftsmanship and pay attention the details of each single hair piece.
LTK: How do you approach custom orders?
PB: Design by Pris aim is the uniqueness and in trend look for brides. I love to work on a "Custom design" hair piece. After I am approached from the brides, I pay attention to her details, learn her needs and collect as much information as I can. Then, I begin to work on the piece. The process of custom design may take longer as each single detail is taken into my consideration. There will be several contacts via e-mail to update the process. The final look is to be approved by the bride before the shipping step takes place.
Advice for Brides
LTK: What should brides look for in hair pieces and veils?
PB: As I was once a bride myself, I believe the most important thing that the brides should look for in getting her hair pieces and veil is quality craftsmanship and good customer service. The designer should understand the needs of the bride.
LTK: Do you have any advice for brides who are searching for bridal accessories?
PB: To search for the perfect hair piece, all brides may give herself more time in searching. Start looking around 3 months or more before the wedding day.
Future Plans for Design By Pris
LTK: What are the future plans for Design by Pris?
PB: Design by Pris plans to offer more unique and in trend bridal hair piece and new wedding accessories, such as veils, ring bearer pillows, garters, boutonnieres and more in the future.
About Pris Batchelder
Design by Pris is an online handmade wedding hair accessories business based in California. Each hair accessory is designed by artist Pris Batchelder, who was born and raised in Thailand. Batchelder makes artistic bridal hair pieces and hair accessories for brides and members of the wedding party. To learn more about Batchelder and buy hair accessories, visit the Design by Pris Etsy shop, or the blog.
LoveToKnow thanks Pris Batchelder for introducing our readers to her artistic handmade wedding accessories. We wish her great success in all of her future endeavors.