Trendy Short Hair Styles for Curly Hair
Curly Asymmetrical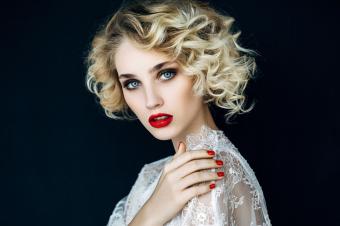 Short hair styles require little time to style at home, especially natural curls, and little product. Change up your look with some of these fun styling options.
The asymmetrical bob, often seen with straight hair, is pure elegance with loose curls. This style has one side shorter than the other and the back neckline follows the length from short to long. The asymmetrical bob is beautiful on oval and long faces.
Curly hair is more manageable with light layering. To style, work through a mousse or curl cream while scrunching your hair. The beauty of curly hair is that most styles are better air dried, but a hair dryer can be used if you wish.
Cropped Curls
If you have tight curls that will lay in ringlets, this is a great choice for a short style. This style works well on thicker hair and those with oval or square faces. The hair is cut short on the sides and in the back and gradually gets longer through the top of the hair. This is a wash-and-go style. It only needs mousse or gel worked through damp hair before you walk out the door. A hood hair dryer would work better with this style if you must use a dryer.
Trendy Afro
Many women have a love-hate relationship with their hair when growing it out. The ease of this style will make you love your curls all the time, and you may even decided not to grow it longer than this collar-length afro. This style works well with oval, round, and square face shapes. As with any naturally curly style, air drying is best. Work through a conditioning styling cream such as a coconut shea curl defining cream and you are good to go.
Short Tapered Layers
If your curls are somewhere between loose and perfect ringlets, this is a winning short style. Layers are cut short all over the head with longer bangs. This style works for oval and heart face shapes. Style at home with a frizz controlling mousse. Use a blow dryer and round brush to style the bangs, and finish with hair spray if you like.
Curly Pixie
This style is a neckline haircut with short layers all over. Bangs are optional with this style. This curly pixie works well with any hair thickness, and it is a great cut for those with round faces. To style at home, work a frizz controlling curl cream through the hair while wet and let it air dry.
Curly Inverted Bob
A popular style with women of all hair types, the inverted bob is a beautiful choice for those with loose curls. It works well with all hair thicknesses but lays perfectly on thicker hair. The hair is cut shorter in the back and longer around the face. It can be stacked in the back, but that is a preference regarding how short you want the back of your hair. All face shapes can wear this style. Use a little curl cream or leave-in conditioner while hair is damp and blow dry the root area only for volume.
Chin Length Curly Bob
This timeless yet trendy style is perfect for natural waves or loose curls. It works well with fine hair. This is a perfect style for all face shapes. To get this look, ask your stylist for a collar-length bob with light layers. Daily styling is as easy as using styling cream or frizz serum and letting your curls air dry.
Feminine Curly Undercut
This trendy faux hawk is a feminine undercut hairstyle. The sides and back are clipper-cut close to the scalp leaving a perfect puff of curls on top of the head. This style works well on fashion-forward souls with round faces. All that is needed for at-home styling is a leave-in conditioner or curl cream with frizz control.
Trendy Waves
If your curls are loose enough that they can be brushed out, this is a modern tapered style you could try. The sides and back are cut short and hair is left long on top. The sides and back must either be brushed straight or flat ironed to straighten out most of the curl. This style is best for fine hair. If you have an oval or round face shape, this style will be flattering for your face shape. To style, use a mousse before drying with a hair dryer. Using a round brush while drying will help control the waves on top.
Short Stack
This playful style is cut close in the back and gradually gets longer as it goes up the head. This 'do is called a stacked cut. It is a great look for oval and heart face shapes. It's a perfect example of a wash-and-go look -- you only need to work through a conditioning curl defining cream.
Close Cut Pixie
Tight natural curls are stylish and elegant in a close cut pixie hairstyle. This style works best on oval or heart face shapes with thick hair. Styling at home is simple. Work through a conditioning curl cream and go on with your day.
Lightly Layered Curls
This shoulder bob with light layering takes you from work to weekend with ease. It is a no-fuss style that works for fine hair as well as thick and any face shape. To style at home, work through some mousse and partially blow dry at the roots. A fine mist of hair spray can tame any fly-aways.
Many women are scared to go from long to short hair because they do not know if they can wear a certain style or what their curls will do. While curly hair tends to have a mind of its own, don't let it stop you from trying a trendy new look. The right cut and a few styling tips can help you get the perfect style.