Party Ideas for Long Hair
Long Hair Gallery
If you are wondering whether keeping your hair long is worth the time and expense, get unusual ideas on how to style and enjoy your crowning glory by browsing this long hair gallery.
Sleek and Simple Ponytails
Discover the ease and versatility of styling options for long hair like sleek, polished-looking ponytails. This look from the long hair gallery is casual enough for walks on the beach but professional enough for boardroom presentations.
Pull hair straight back into one ponytail, part it on the side to make a ponytail on each side of the head, or sweep all the hair to one side and secure it with a band for an asymmetrical-look ponytail. Keep it simple, or dress it up with scrunchies and ponytail holders.
Evening and Prom Looks
Look elegantly understated or outrageously edgy in stylish updos that highlight long, luxurious locks.
Whether you are attending your first prom or a festive holiday ball, you'll turn heads with an upswept hairstyle.
Cascading Waves
Frame a heart-shaped or triangular-shaped face with cascading curls, or sweep the hair back and secure with barrettes to flatter round faces.
Petite women and those with delicate facial features should take care when wearing voluminous curly styles to prevent appearing overwhelmed by all the hair.
Wedding Style Watch
Function meets fashion when brides opt for upswept styles for weddings.
A picture-perfect coiffure with the hair tamed and controlled is the reward.
Some factors to consider when choosing updos are how to design around a headpiece, veil, or tiara, or when to adorn with flowers or hair jewelry.
Day to Night Transitions
Layer on some luxury to transform a daytime do into an evening updo by adding a hair piece or extension to chin-length long hair.
Choose a style with attached combs to make creating an upswept hairstyle quick and easy.
Braided Hairstyles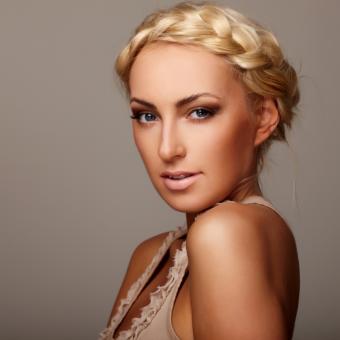 Soft milkmaid-style braids wound around the crown are just one of the many ways to change your look using braided hair.
Braid ponytails and let them dangle, or twist and weave the braids into intricate knots and designs.
Styling possibilities are endless when working with long hair.
Wedding Beauty Hairstyle
Wedding hairstyles must accent the bride's facial features, wedding gown, and other accessories.
Hair that is allowed to trail gracefully down the back and shoulders elongates the face and looks sweetly sexy at the same time.
This style complements all face shapes and veils.
Cute and Playful Styles
Let your long hair flow in gentle waves or sweep it up in buns, twists, and chignons.
Use hair accessories like ribbons, scarves, or hair sticks to express your signature style.