9 Red-Violet Hair Color Ideas for a Bold, Beautiful Look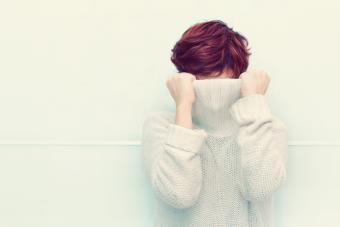 Reddish violet is a unique hair color with different variations that complement every skin tone. Whether you opt for just one color or a multitude of shades, you're guaranteed to stand out for all the right reasons.
All-Over Reddish Violet
If you want a no-frills approach to reddish violet hair, consider one all-over solid hue. This colored dye is easy to purchase from a drug or grocery store and apply yourself; however, if you have a dark natural hair color, you will need to strip your tresses first so it's better to seek advice from a professional beforehand. Once the aesthetic is complete, it's vibrant, striking, and makes a serious style statement.
Violet With Red Flashes
Searching for a contemporary take on the usual reddish violet hair color? Perhaps you already have purple tresses and fancy a change or you want a complete hair makeover; either way, sass up your do with a violet base and red flashes. You can make the red flashes as loud or toned down as you'd like, but one thing's for sure: all you need is confidence to rock this look. You can also incorporate lighter red flashes around the front for a brightening, face-framing effect.
Reddish Violet Ombre
The ombre effect is still just as pretty and popular as it always was and generates intrigue when combined with reddish violet hues. If you have a pale skin tone, ask your hair colorist for more pinky-purple roots that gradually transition into violet red ends for a beautiful, breathtaking appearance.
Dark Violet With Partial Highlights
If you're searching for a more understated flash of red, consider a deep violet base with partial highlights. Partial highlights continue to be sensational when they're placed around the front sections of hair to draw attention to and frame the face. Whether you wear this style naturally tousled or smooth and sleek, this coloring is sure to complement any outfit.
Violet Balayage
The balayage effect is stunning when combined with any hair color; however, there's something about the violet balayage that you just can't take your eyes off. It involves a complex coloring technique where strands of hair are highlighted to mimic the way that your mane organically lightens after you've spent long periods in the sun. Even though balayage is a gradual effect like ombre, pieces of the bottom section are usually left dark for a natural, sun-kissed look that suits all skin tones.
Deep Purple With Red Touches
You can easily create dimension throughout a deep, all-over purple color with an occasional red strand. As well as looking individualistic, you can customize the technique depending on your personal preferences regarding strand frequency and thickness. If you have brown or hazel eyes, include more red strands around the front of your face to bring them out.
Reddish Violet Babylights
If you're searching for a more subtle reddish violet hue to complement your dark or olive complexion, consider babylights. These delicate highlights are produced using a very fine coloring technique and are meant to look sun-kissed and natural. They can tone down a style and prevent it from appearing too brash or overpowering.
Dark Hair With Reddish Highlights
Feeling brave? Why not revamp your dark locks with a full head of reddish violet highlights; this suits both pale and dark complexions. You can request as little or as many highlights from your hairdresser as you wish, but this aesthetic really shines with a higher amount.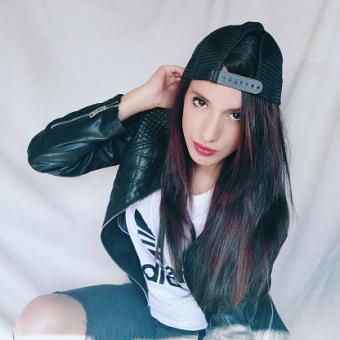 Vivid Chunks
If you're looking for something even more dramatic and disjointed, opt for a standout base hair color with vivid violet chunks. These chunks can be applied in the same way as highlights; however, vast thickness is key for creating a quirky, alternative appearance.
Tips for Lasting Color
Once your color is complete, it's generally recommended that you wait 48 hours to wash your hair, and then use very cold water to help seal in the color.
Following this, proceed to wash your mane just once a week to reduce the likelihood of the color fading. This applies to most reddish hair colors.
To sustain the color, choose a gentle shampoo and conditioner that are both free from sulfates as these formulas are less likely to strip your locks of their natural oils and dye.
Struggling? You can buy red hair-friendly dry shampoos to combat oil in between washes.
Finding What Works
There are a variety of ways to wear reddish violet hair. The trick is to explore and experiment with different options to find out what works for you and your skin tone. Whether you opt for a muted aesthetic or something a little more extreme, this color combination is undoubtedly fashionable and memorable.