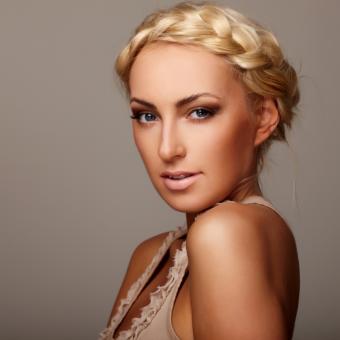 A Grecian updo is a popular choice for summer patio parties, formal dances and even weddings; few would argue the femininity that can be had in a Grecian updo. If you want to embrace your exotic side, consider wearing any one of these Grecian updo variations.
Pair your Grecian style with no-fail fashion wardrobe pieces. Long maxi dresses, maxi skirts, one shoulder dresses, white gauze pants and rope or leather sandals help to invoke a true Grecian feel. Whether for patio, play or performance, the following inspirations will help you design an authentic look from head to toe.
Key Elements of a Grecian Style
As long as these key elements are a part of your updo style, you can rock the Grecian trend with or without the Roman sandals.
Keep it gilded: Gold is the word when it comes to Grecian styles. Whether you incorporate sunny highlights or rely on bronzed accessories, make sure your style has some element of gold.
Shine: Make sure tresses are shiny and healthy for any of these styles. If you need to hide damage, part hair accordingly and smooth with a shine serum prior to braiding or securing in an updo.
Texture: A few Grecian updos rely on texture and curl. If you have natural waves, define them and let them loose. To create wave, twist and separate damp hair in 1 to 2 inch chunks and allow the tendrils to dry in a haphazard and wild spirit.
Ideas for Grecian Updos
Any of the following Grecian updos can be adapted as needed to suit your hair type and length. If the style proves to cumbersome to design yourself, book an appointment with your stylist and he'll be sure to perfect your exotic beauty.
Braids
A classic side wrap braid will always define true Grecian updo styles. If you've got the length, embrace it by creating a side-hugging braid. Start from the front and twist three sections of hair loosely back . Braid from top to bottom or leave some hair out to create a half updo with loose tendrils. To make a side wrap braid, do the same as above (one braid on each side of the head) and connect them in the center and adorn with a gold bobby pin or hair clip. If you have extra long hair, consider wearing a long fishtail braid and finish it off with a gold metallic hairspray for texture and sparkle.
Loose Curls
For a romantic Grecian updo, nothing beats loose tendrils and a half-up style. Channel the goddesses and wear your hair loose and lovely. Set hair in varied sizes of hot rollers. Shake or separate natural curls with a frizz-controlling gel. Pin small sections of tendrils onto the top of your crown and embellish with gold ornate hair pieces.
Edgy and Blunt
For a modern day Grecian updo, pair blunt bangs or an edgy bob with an eye-catching, yet thin gold headband. If you've got dark hair you'll love the way the metal shines off your tresses. Gather hair in a chignon with a deep forward part and rock this modem Grecian style that's both effortless and chic.
Rely on Accessories
If your locks are simply too short to style or you'd rather just keep your hair maintenance-free, then rely on accessories in lieu of a style. Scour inexpensive jewelry and accessory stores for gold leaf headbands, bobby pins and even gold crowns. Snakes, garland and gems all help to define the Grecian updo look, so be sure to accessorize with mythical and fantasy inspired accessories for fail-proof results.